A SPANISH LEARNING VACATION WITH NANCY O'TOOLE APRIL 26th to May 6th, 2012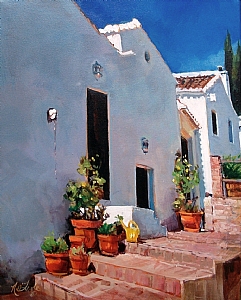 Painting of El Molino from the front.

ABOUT OUR HOSTS!.
Mike & Hilary (Lari) Powell speak fluent Spanish, and are very knowledgeable about Spain. It was their home for many years where they owned restaurants in Portugal and on the Costa del Sol, and catered to many famous people. They are passionate about Spain and Spanish cuisine and readily share their love of its people, culture and fascinating history. The Powell's are truly wonderful people who offer a unique unforgettable experience, and a superb holiday along with fantastic Mediterranean cuisine, wine and convivial laughter (maybe a song or two) and all in a most charming location! 3 excursions plus pick up & drop off at Malaga airport are all part of this package!
One thing I can promise you, is that you will have a "fantastic" experience!
We have enjoyed so many wonderful days & evenings of painting, laughter, singing and great times together that I can't wait to return! Click to visit "Flavour of Spain" website: www.flavourofspain.net


NOTE: FOR NON PAINTING PARTICIPANTS:
Conversational Spanish classes are available for those who are not going to be painting. and as long as we know well in advance, that can be arranged and is also included in the cost! Note below- 2 Cooking demos by Mike Powell are available this session as well.

*EXTRA BONUS" - COOKING DEMOS and a "SPECIAL SPANISH WINE TASTING"
Our chef MIKE, has offered the following: On 2 of the afternoons when not on excursions, Mike will do cooking demos and these are interactive with a chance to learn, ask questions, and write down recipes etc. *A "Special Wine tasting" of Spanish wines from various regions of Spain is also a favourite on one evening, along with Tapas!
EL MOLINO Our accommodation is a comfortable, charmingly beautiful, old mill, full of history that has been lovingly restored by its present owners Nick & Amanda Moody. Read more at www.elmolinospain.com
3 EXCURSIONS to historic locations by private coach are included (see over) and a fabulous Flamenco performance! OLE!
A TYPICAL DAY AT EL MOLINO!
Breakfast: -Serve yourself with fresh squeezed, sweet orange juice, cereals, yogurt, toast, tea or coffee, & farm eggs. Etc. 9-9:30am: Workshops start in one of the covered studios, either by the pool or the tennis court, or in one of the courtyards..
1 to 2pm: Enjoy salads made from the best of local produce, fresh bread and fruit, helped along by one of Mike's cold Spanish soups, *pâtés*, roasted veg., ham off a leg of Pata Negra, the best and sweetest in the world, or delicious chicken, and accompanied by a selection of specialty cheeses, Spanish wine (no sulphites) or chilled Sangria!
2 to 5pm: Work on your art projects, swim, read a book in the hammock down by the stream, stroll down a country lane, or time for a siesta.
5 to 6.30 or 7pm: Workshops reconvene with your instructor to follow up with some one on one mentoring.
7 to 7.30pm: Time for Tapas! Swap stories, enjoy tasty nibbles, and understand just why the Spanish love this tradition! It's usually at this point that we explain a little about where we're going tomorrow, and give you an overview so that you will know what to look forward to on the upcoming excursions.
7.30pm Enjoy the evening meal in the courtyard or by the pool taking time to savour the food! While enjoying the peace and tranquility of this beautiful setting amidst olive groves, you might be noticing how time has slowed down just a little, and just how good that feels! Tomorrow is another day.

OUTLINE OF DATES, COST, and WHAT IS INCLUDED, and WHAT IS NOT.
Dates of workshop.. (Arriving in Malaga) .April 26th 2012 to May 6th 2012 (leaving Malaga)
Cost is:
$3890 total (sharing), including a non refundable deposit of $600 per person when booking, with final balance of $3290 due February 26th, 2012, 2 months before actual start of the workshop.
NOTE: It is advisable to have insurance coverage on this deposit and this can be arranged through our travel agent if you wish.. Cindy Horton at Travel concepts cindy@trvlconcepts.com
LAND PACKAGE..inclusive of the following
Pick up & drop off for all participants by private bus from Malaga airport at specified time.
10 night's Accommodation ( twin, double occupancy) at El Molino, in rural Andalucia!
All Breakfasts, Lunch, & Dinners including wine and filtered water at El Molino( see exceptions* below)
3 ESCORTED EXCURSIONS by private bus to , Ronda, Cordoba, and Priego You can read more about these places at www.flavourofspain.net
NOTE: As Cordoba will be one of the excursions, it also includes tickets to a fantastic & exciting Flamenco show!
NOT INCLUDED:
1 lunch and 1 dinner while on excursions
AIR FARE TO MALAGA ..not included, but if you need help in booking flights, our travel agent Cindy at www.Travelconcepts.com can help with this if you wish or Email cindy@trvlconcepts.com
You may call me at Ph.( 604) 922 5604 or EMAIL: nanotoole-artist@shaw.ca and I would be happy to call you back and answer any questions. Please leave your ph # if I am not in and also if you email. I look forward to speaking with you soon! Website: www.nancyotoole.com
If you wish to book directly, Please contact: CINDY HORTON Email cindy@trvlconcepts.com
OR you can call CINDY or LIZ IRVING at (604) 926 8511
_______________________________________________________________________________________________